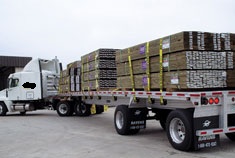 Nationwide Lumber Shipping Since 1994
If you need a load or a partial load of lumber shipped anywhere in the USA, please call Showroom Transport at 800-462-0038 for a free lumber shipping quote. Or, you may fill out the quote form just below.
What we ship:
Half of a 48ft Trailer Load of Lumber or more.
Full Trailer Load (48ft - 53ft trailer)
Where we ship:
Anywhere in the continental USA. We have a minimum amount of miles we travel which is 100 miles or more.